AsianSweetBoy

10 years ago

No likes

674 views

No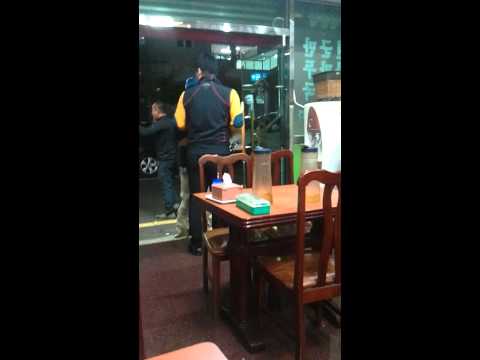 This one's too stupid to justify it's own separate post, but I'm putting it here anyway just because drunk Koreans make me laugh. This incident started with the drunk ajusshi harassing the hostess (sexually) after his friends had left the restaurant. She threatened to call the cops but he still had shit to say, so someone who isn't me kindly asked him to leave. He didn't have a pair like the ajusshi in the last fight, so he contented himself with yelling obscenities while  the polite stranger removed him more forcibly.
Similar scenes involving middle aged Korean men are common to the point of cliché. Koreans aren't typically violent, but drunk is drunk. It's true that drinking is a big part of Korean culture (#1 consumers of spirits in the world). It's also pathetic. Koreans consume more liquor per capita than Russians. Russians! What a joke. The worst offenders are  ajusshi, the middle aged men, stumbling around like wrinkled shitbags of vomit looking to harass someone. I don't go out often which gives me some respite from the female drunks and the men who rape them. With ajusshi, there's simply no escape. Anywhere, anytime, an ajusshi is nearby waiting to get drunk and obnoxious. It's a queer sight to see multiple Korean men eating lunch without a bottle of liquor at their table.
This fight happened at a mandu restaurant in Gupo. It's run by a chummy Taiwanese fella and his harem of dumpling sluts. I still think the mandu (which are dumplings) are more or less Korean style.
The menu is simple- You can order mul mandu (water mandu) which are boiled, jin mandu, which are steamed gun mandu which are fried and mandu guk bap,which is mandu in a broth with rice on the side. They also have other Chinese-Korean dishes(that are shitty).
Jjin mandu - steamed
My friends and I can't agree on which one's the best so you'll have to try them all. One order can fill a small Asian whore and costs 5k. The filling is pork and cabbage, held together by a starch. It's bland, but served with soy sauce, vinegar, pepper flakes, and a side dish of cucumbers and raw garlic, the meal is delicious in its own way. They have bottles of luke-warm Chinese tea which is a huge improvement over the usual bags of excrement that Koreans call tea.
Gupo is a stop west of Deokcheon, so most people have no reason to come here unless they're getting on a train. But if you're near the West side, try this place.
Directions: From the subway station, follow the directions to the train station. At the small road in front of the train station, turn right, it's ten seconds from the corner. You'll pass a gold store, some dweji gukbap restaurants, and street food vendors. The red sign has Chinese characters. You'll know because they  look a lot more complex than Hangul.